Regular Show
is a Cartoon Network show created by
J.G. Quintel
. It premiered on Septem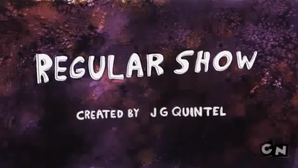 ber 6, 2010 with the episode The Power.
List of Characters
Edit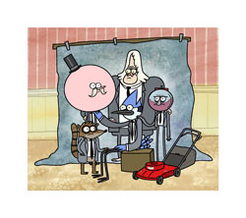 Main Characters
Edit
Supporting Characters
Edit
Margaret
Eileen
Gary
Mr. Maellard
Death
List of Episodes
Edit
Just Set Up the Chairs
Free Cake
Meat Your Maker
Grilled Cheese Deluxe
The Unicorns Have Got to Go
Rigby's Body
Mordecai and the Rigbys
Ello Gov'nor
It's Time
Appreciation Day
Peeps
Dizzy
My Mom
High Score
Party Pete
Brain Eraser
Benson Be Gone
But I Have a Reciept
This Is My Jam
Muscle Woman
Temp Check
Jinx
Do Me a Solid
Grave Sights
Really Real Wrestling
Over the Top
The Night Owl
A Bunch of Baby Ducks
More Smarter
Go Viral
Karaoke Video
Stick Hockey
Bet to Be Blonde
Skips Strikes
Terror Tales of the Park: Creepy Doll, Death Metal Crash Pit, In the House
Camping Can Be Cool
Slam Dunk
Cool Bikes
House Rules
Rap It Up
Cruisin'
Under the Hood
Weekend at Benson's
Fortune Cookie
Think Positive
Skips vs. Technology
Butt Dial
Gut Model
Video Game Wizard
Big Winner
The Best Burger in the World
Replaced
Trash Boat
Regular Show: Slack Pack
Regular Show: Slack Pack 2 (Unconfirmed)
Regular Show: The Complete First Season (Unconfirmed)
Ad blocker interference detected!
Wikia is a free-to-use site that makes money from advertising. We have a modified experience for viewers using ad blockers

Wikia is not accessible if you've made further modifications. Remove the custom ad blocker rule(s) and the page will load as expected.